Shogún

Audience type:

For all ages
Small group: No

Collection Service: Yes

Wheelchair accessible: No
This is an authentic oriental sailing boat, built in teak wood, in which you will sail along the south coast of Tenerife.
Live the experience on board an authentic oriental sailboat, completely constructed in teak hard wood, for the private use of an Arabian Sheikh.

Shogun has 2 levels, 3 services available (for wich one is adapted for the disabled peaple), an open bar, a large central table where your meal it will be served.
A 5 hour trip, during of which we will see pilot whales and bottlenose dolphins, an internationally species.

The SHOGUN complies with these rules and holds a yellow flag with a blue boat badge that guarantees the sight seeing of the whales and dolphins with their maximum welfare involved.

With its geografical position and subject to the action of the Trade Winds and Teide´s summit acting as a back drop, the Canary Islands and mainly the south of Tenerife counts on a water temperature of between 17-24 degrees during the whole year.

This ensures the permanent presence of many species of cetaceans eg pilot whales bottlenose dolphins along with other migratory species eg Finwhales, spermwhales, common dolphins...

After this emotional viewing of these marvellous animals we will anchor in the Bay of Masca, and the impressive cliffs of Los Gigantes to enjoy a well deserved swim and hearty lunch.
Departure: Puerto Colón, Pontoon 14.
Anti-Covid-19 preventive measures:
Transport service:
Each client must wear their own mask.
On the boat:​
Disinfection and cleaning of the boat before and after the sailing.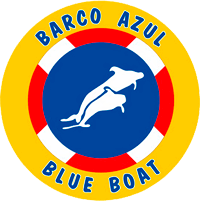 Certifications: Blue Flag
This ship has a Blue Flag. The observation of cetaceans is currently an exceptionally important tourist activity and generally represents, for the majority of people who undergo this experience, their first contact with marine mammals. In the Canary Islands, the observation of cetaceans for tourist purposes is regulated by Decree 178/2000 of 6 September 2000.
Free cancellation up to 24 hours before the excursion. If you cancel within 24 hours of the excursion, there will not be a refund.
Adults

Children
(5 - 11)
Infants
(0 - 4)

5 Hrs with bus from the North