Brisa Paragliding Tenerife will share with you one of man's greatest dreams: flying, free as a bird. Do you want to touch the sky? Do you wish to experience the taste of freedom? Feel the adventure of flying tandem above the precious mountains and coasts of Adeje.
Our highly qualified tandem pilots have over 20 years of experience in flying techniques and weather patterns to maximize both your safety and flight performance, assuring you sensational and unbeatable feelings.
Ever wish you could fly away with Brisa Paragliding Tenerife?
Brisa Paragliding stands out for its exquisite customer service and its desire to share the incredible sensation of paragliding.
The maximum weight of the passenger shall be 100 Kg.
Ages between 8 - 80 years.
Approximate duration of the flight: 20 min.
Approximate duration of the tour: 2 hours.
Because of flying without engine, our flight time and altitude will always depend upon the weather and thermal conditions. Therefore we reserve the right to reschedule your flight for another day or time, in case of unfavourable conditions.
We recommend wearing warm clothing and sport shoes.
Transfer included from Los Gigantes area to El Médano.
Free cancellation up to 24 hours before the activity. If you cancel within 24 hours of the activity, there will not be a refund.
| | | | |
| --- | --- | --- | --- |
| | Adults | Children () | Infants (No) |
| | | | |
| Vuelo Paraje Natural Ifonche-Benitez (20/25 minutos) | | | |
Enjoy more excursions of the same category.
Canaventure offers you trekking and walking excursions in Tenerife: Camino Real-Difficulty: Medium On the first part of this old royal path, we will be surrounded by unique nature and we will have a ...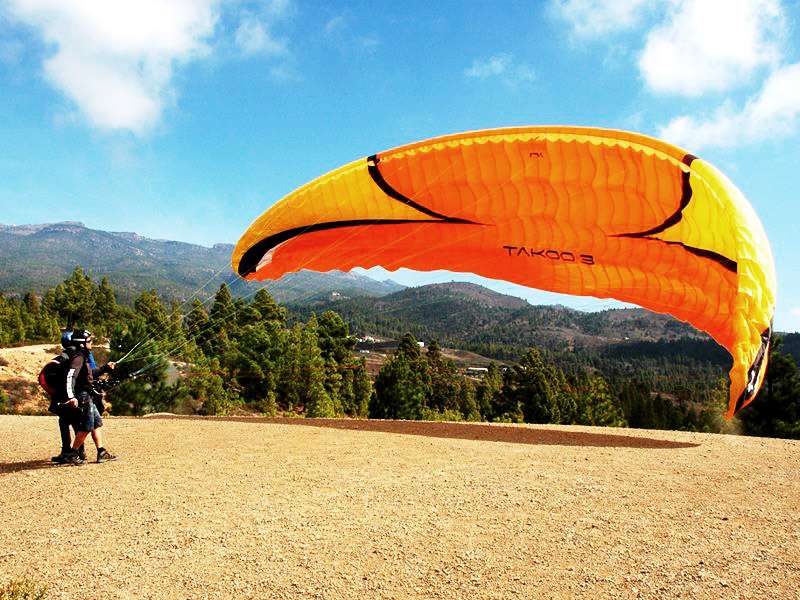 Kangaroo Tandem is aprofessional team who has a lot experience of fliying in paraglider. For them, your safety is a priority so they have the best quality equipment. Basic-Taucho (15-20 min. duratio...