Hike and Fly is an excursion in which you will travel the best of heaven and earth.
Your first stop will be Taucho - Ifonche, where you will trek for approximately 3 , 3.5 hours of medium to advanced difficulty. After the walk you will enjoy a picnic with hot food to recover your strength.
Once you have rested, you will parascend from 850 meters from Taucho, in Tandem with your guide who will accompany you and instruct you in your language.
You will land at La Caleta, from where we will go back to the starting point.
See the best of heaven and earth on this excursion that combines hiking and paragliding.
Languages available: Polish ,Spanish ,English and Russian.
Trekking estimated duration: 3-3.5h
Flight time estimated duration: 25-30m
Included:
Return transfer from the hotel
Walking guide in your language
Parascending guide in your language
Boots and trekking canes
Hot picnic type food and water
Liability insurance

Languages available: Spanish, English, Russian, Polish.
Free cancellation up to 24 hours before the activity. If you cancel within 24 hours of the activity, there will not be a refund.
| | | | |
| --- | --- | --- | --- |
| | Adults | Children (2 - 11) | Infants (0 - 1) |
| | | | |
Enjoy more excursions of the same category.
Canaventure offers you trekking and walking excursions in Tenerife: Camino Real-Difficulty: Medium On the first part of this old royal path, we will be surrounded by unique nature and we will have a ...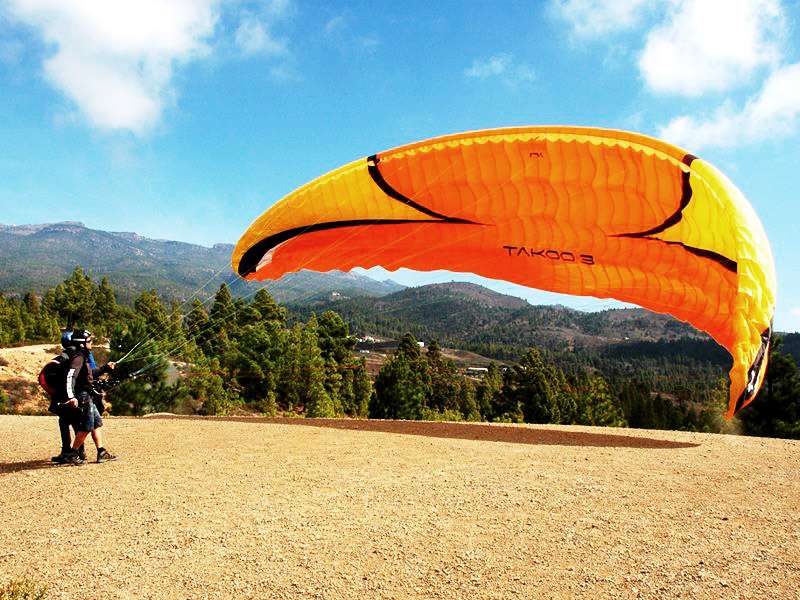 Kangaroo Tandem is aprofessional team who has a lot experience of fliying in paraglider. For them, your safety is a priority so they have the best quality equipment. Basic-Taucho (15-20 min. duratio...